Aspire Tigon Kit
£37.00
Aspire | Tigon Kit | 1800mAh
Description

Aspire are not the sort of people to say "That will do" when developing a new product which is very clear with their new Tigon Kit !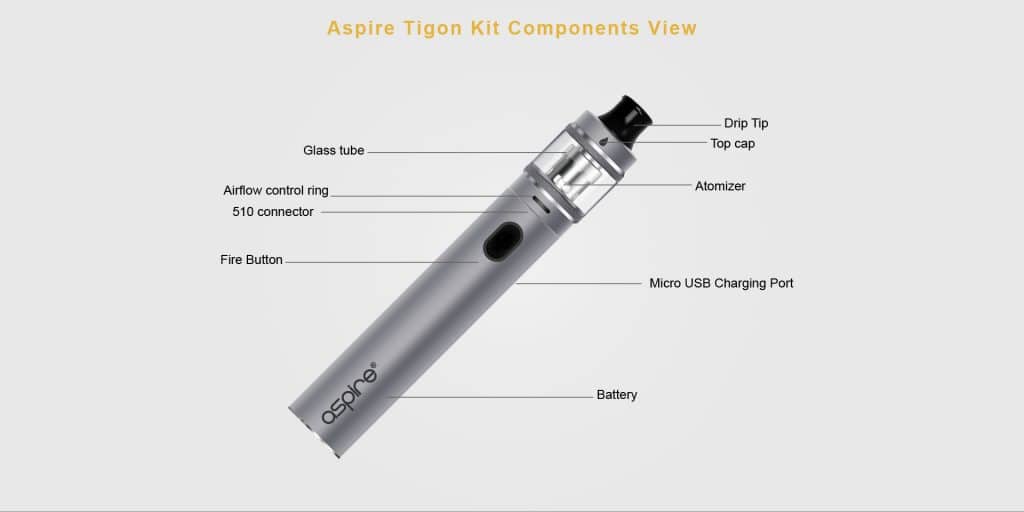 Suitable for both mouth to lung (MTL) and direct lung (DL) vaping, depending on whether you're using the 0.4ohm or the 1.2 ohm coil, it features a very adjustable airflow system that matches both styles perfectly 'available to purchase here'.
The Tigon utilises a brand new push fit system that not only makes it quicker to replace the coil but because of its automatically closing juice port, you can change the coil even if the tank is full of your favourite juice. The Tigon also comes with a wide bore drip tip for sub-ohm vaping and a longer, thinner drip tip for MTL users included. The 1800mAh battery is simple to use and tells you how much charge is left by lighting up the button different colours.
How to fill:
Lift the top collar of the tank until it stops and then slide away from the direction arrow.

Aspire Tigon Kit Features:
Built In 1800mAh Battery
Able to change the coil with juice still in the tank
Suitable for both mouth to lung and direct inhale
Adjustable airflow collar at the base.
Push fit coil system
Retracting slide top filling system
Micro USB Charging Port
In The Box:
1 x Aspire Tigon Mod (1800mAh)
1 x Aspire Tigon Tank
1 x Tigon Coil 0.4 Ohm – 23-28w Direct Inhale (Pre-installed)
1 x Tigon Coil  1.2 Ohm – 10-12w Mouth to Lung
2 x Drip tip, Wide Bore and Mouth to Lung (Standard 510)
1 x Micro USB Cable