Aspire Zelos 2 Kit
£54.99
Aspire | Zelos 2 Kit | 50W
Description
[arve url="https://youtu.be/pyFknB09mOE" /]
The Aspire Zelos 2 Kit brings back a fan favorite with an upgrade ! The max wattage for this awesome device is 50W and comes with the Nautilus 2S. The ease of use to this setup is second-to-none and its portability makes for easy vaping anywhere you go.
Now, the complete watt range for this little MTL machine is 1W to 50W which is plenty for those nic salts. The minimum amount of resistance it can take is 0.1 ohm. What's really great is that it's packed with a host of modes such as power mode, temp mode, and bypass mode.
 The Zelos boasts an internal 2500 mAh battery to keep you vaping throughout the day. Its curved ergonomic design makes it super comfortable to hold and use. The aluminum-zinc alloy construction of the body makes this a mod that can take a lickin' and keep on chuckin'. The Zelos has a 0.96" OLED display that is very simple to use.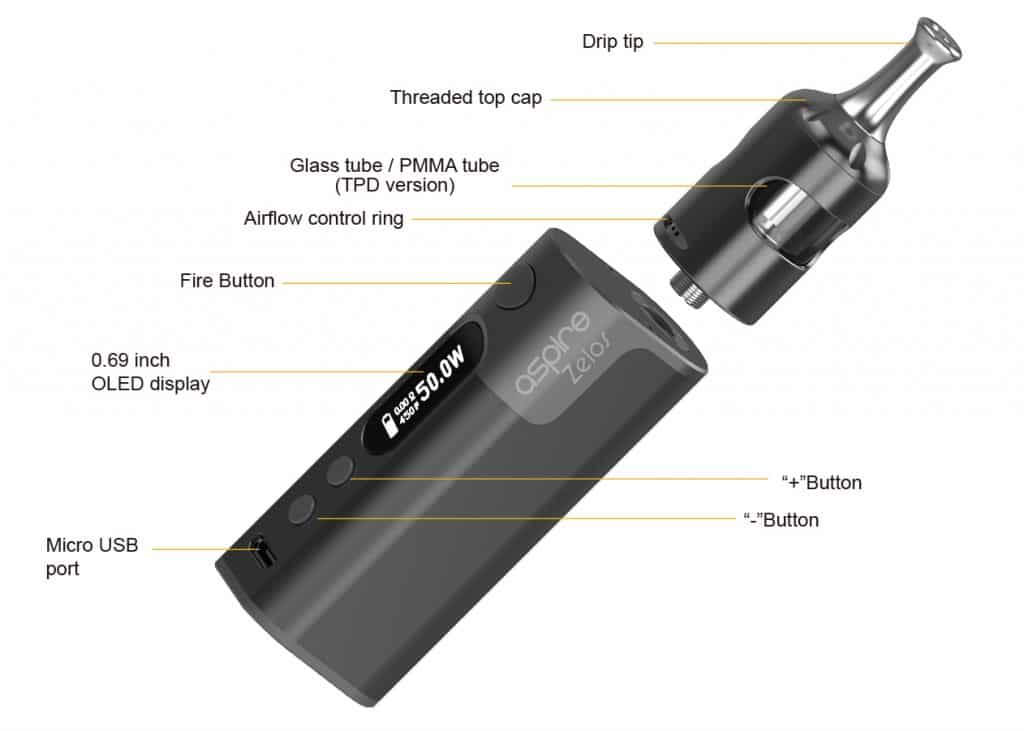 Now about that Nautilus 2S. It has a 23mm base with a max capacity of 2mL which is enough room for your favorite flavours. The atomizer has a childproof twist up then push to open top fill, which is easy to use and keeps your tank safe. The 2S comes preinstalled with a 1.8-ohm coil and comes with an additional 0.4-ohm coil (both available to purchase here) if you fancy some direct-to-lung vaping with your tank. Let's not forget it has a fully adjustable dual slotted airflow to give you just what you need to get the drag you want.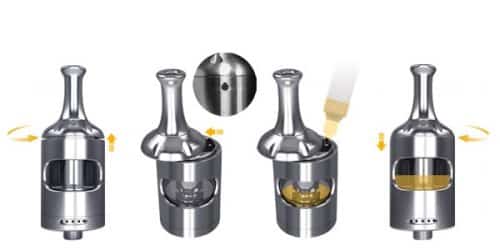 Get the best in what MTL has to offer with the Aspire Zelos 2 50w Kit today!
Zelos 2 Mod Specs:
78mm x 40mm x  23mm
Wattage Resistance Range:  0.1 ohm – 3.5 ohms
Wattage/Voltage Range: 1W-50W/0.5V to 8.0V
Several Modes
Internal 2500 mAh Battery
Zelos 2 Kit Features:
Passthrough Charging
0.96 inch OLED Screen
Auto-Rotating Screen
Large Comfortable Firing Button
2 Adjustment Buttons
Stainless Steel 510 Threading
Spring Loaded Gold Plated Contact
Built-in Protections
23mm Wide Base
2mL Juice Capacity
Stainless Steel Construction
Childproof Twist and Slide to Open Top Cap
2 Fully Adjustable Airflow Slots
Compatible With Nautilus BVC Coils
What's in the box:
1 x Nautilus 2S Tank
1 x Spare Drip Tip
1 x Micro USB Cable
1 x Zelos 50W Mod
1 x 0.4-ohm BVC coil
1 x Spare O-ring bag
1 x Warrant Card
1 x User Manual