Innokin MPV5 Mod Only
£70.00
Innokin | MPV5 Box Mod | 5200mAh
Description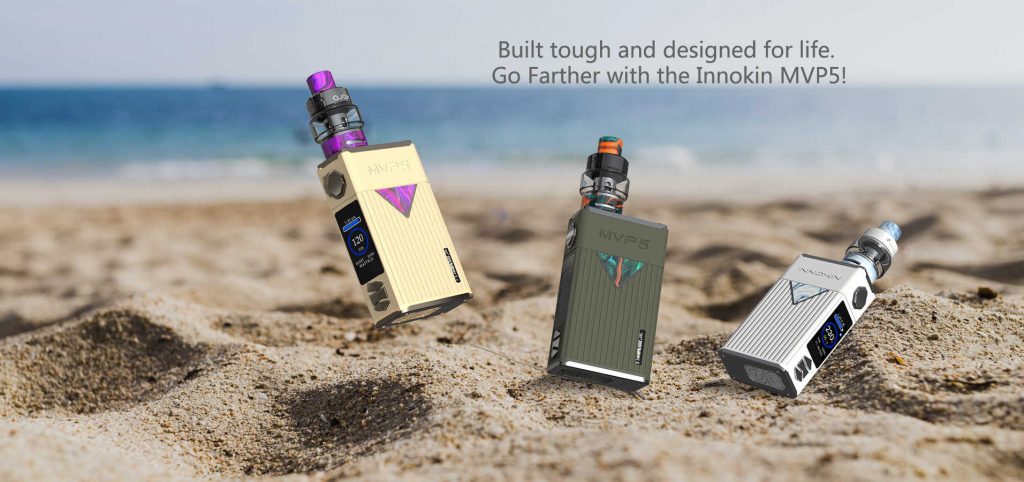 Innokin are well known for their high quality vape devices and for breaking new ground with innovation, so the MVP5 is much more than a vape device, combining a superb vape with key survival features including a flashlight, powerbank, sensor suite and more.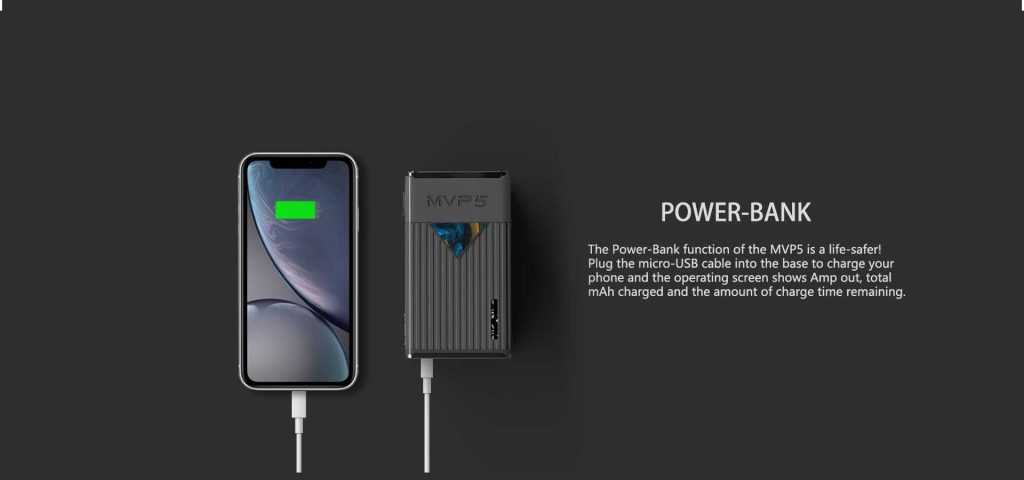 The MVP5 features a classic box mod vape design, a solid, hefty build that feels like it's been built for the outdoor life. In the past we've been impressed with a battery capacity of 2000mAh. But the MVP5's battery capacity puts other devices to shame with a tremendous 5200mAh. When used at lower wattages, this should ensure not just all-day vaping but multi-day vaping! Handily for such a powerful device, the MVP5 comes with fast charging when using the included USB-C charger. The increased battery life is not just for vaping. Uniquely amongst vape devices, the MVP5 comes with a whole host of survival features. These include a 6-mode flashlight, compass, powerbank functionality, thermometer and altitude reader. The MVP5 also comes with a hard-wearing wrist strap that doubles up as a USB charger.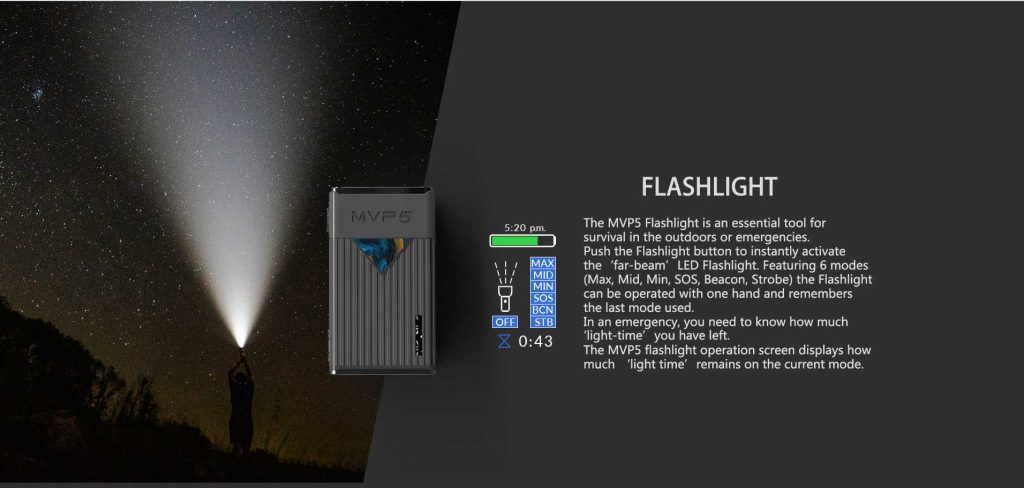 Along with this host of unusual features, the MVP5 comes with a number of vape specific features. These include the use of three wattage modes (normal/boost/soft), temperature control, TCR and optimized 'easy select' wattage pre-sets for both the included Ajax tank and zenith coils. With power delivery of up to 120 watts, the MVP5 is great for cloud vaping but with the swap of a coil can also be used for mouth-to-lung vaping.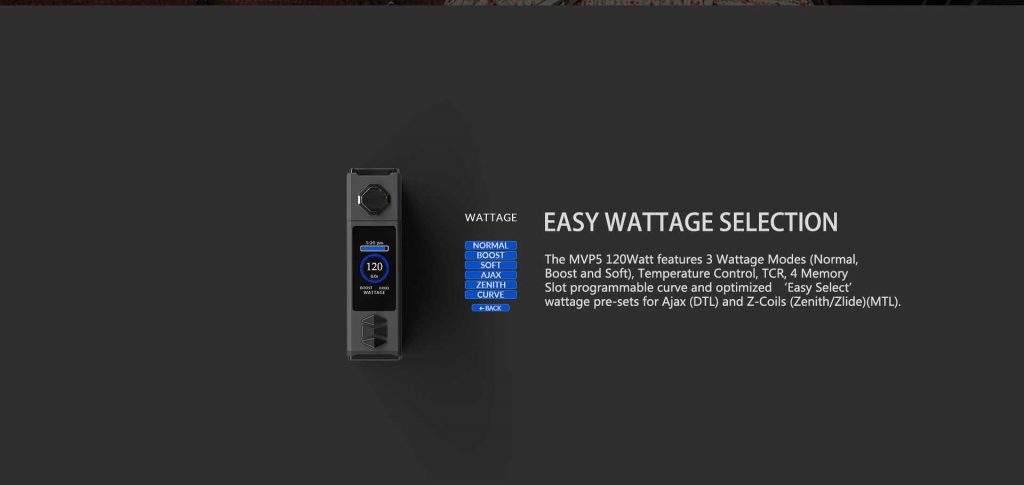 WHO'S IT FOR?
Suitable for mouth-to-lung or direct-to-lung vapers, with a switch of the tank the MVP5 is perfectly suitable for both. So this device will suit a range of vapers and is particularly ideal for those who prioritise battery life and who enjoy the outdoor life.
MPV5 FEATURES:
Coil detection
Variable wattage
Wattage modes: Normal/Soft/Hard
Custom wattage curves
Preset wattages (Ajax and Z-Coils)
TC Mode
TCR
Adjustable automatic cut off
Puff counter
Thermometer
Altitude sensor
Barometer
Adjustable display (colour, brightness, screen timeout)
Clock
Passkey
Device ID
Factory reset
Flashlight modes: Maximum, mid-range, minimum, SOS, beacon, strobe
Powerbank mode
MVP5 SPECS:
5200mAh Built-In Battery
120W Max Output
Durable Box Mod Design
OLED Screen
Large Firing Button
Operational Buttons
Variable Wattage
Temperature Control
Memory Mode
Curve Mode
Flashlight
Sub Ohm Compatible